SONNEN SOLAR BATTERIES - GERMAN MADE 10kWh BATTERY OR MODULAR UP TO 15kWh
SONNEN SOLAR BATTERIES FROM SOLARPRO
Solarpro offers a choice of two Sonnen Solar Batteries: the 10kWh sonnenBattterie EVO which is AC coupled like the Tesla Powerwall and complies with Australian regulations for outdoor as well as indoor installation; or the sonnenBatterie hybrid 9.53 modular solar battery with a capacity of 2.5kWh to 15kWh for customers who want to start small and grow.
Sonnen solar batteries are engineered and made in Germany. They are lithium iron phosphate batteries with a 10yr warranty or 10,000 battery charge cycles. Sonnen has its own virtual power plant (VPP) option.
The Sonnen Evo is a fully integrated 10kWh AC coupled solar battery which is compliant with Australian standards for outdoor as well as indoor installations.  Like Tesla Powerwall it can simply be added to any existing solar panel array and solar inverter, making it a particularly good option if you already have a solar power system.
It comes with its own Battery Management System and inverter which is optimised to support demand response programs and VPPs.
Outdoor rating: IP56 (compliant with Australian standards)
Useable capacity: 10kWh
Warranty: 10 years
Backup power is included for a 5kW continuous and 7kW surge capacity in the event of a blackout.
Performance can be monitored using the My Sonnen app or web portal.
DOWNLOAD DATASHEET
sonnenBatterie hybrid 9.53
The Sonnen Solar Battery Hybrid is a modular single phase solar battery.  This means you can start small and add to the storage capacity as your needs grow up to a capacity of 15kWh. For example, you may be planning to buy an electric vehicle (EV) in the future.  It is DC coupled which gives it some energy efficiency advantages over AC coupled batteries.
Expandable up to15 kWh
Battery efficiency: 98 %
Warranty: 10 years
It will provide continuous backup power to your home in a blackout using Black Start.  You can monitor performance using My Sonnen app or the web portal.
DOWNLOAD DATASHEET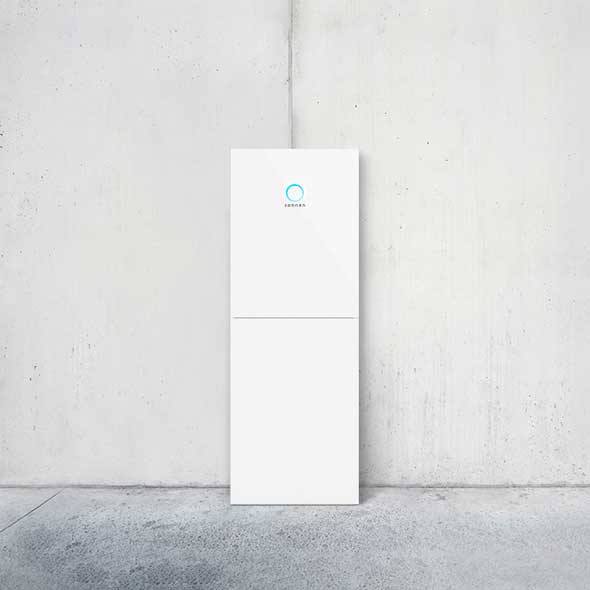 While the video shown here is from 2019 and not Australia, it is a good explanation of sonnenConnect and VPPs in general.
Energy Plans - sonnenFlat & sonnenConnect
Rather than using an electricity retailer, you can choose to join sonnenFlat.  This gives you a fixed monthly energy bill that includes grid electricity and network charges. You also receive a reward when your energy is shared on sonnenConnect which is Sonnen's VPP.
If you prefer to stay with your electricity retailer and have a solar battery storage capacity of 4kWh or more, you can still be part of sonnenConnect.  You continue to receive a solar feed-in tariff for any excess solar power that goes to the grid.  In addition, Sonnen provides a daily reward for customers when they help 'rescue' the grid with their solar power.
VPPs connect multiple home solar batteries to make one powerful energy source that can provide stability to the electricity grid when needed.
TESLA
Tesla Powerwall has a capacity of 13kWh making it one of the larger domestic solar batteries currently available. It is AC coupled and can be added to an existing solar system without the need for a separate solar battery inverter.
VIEW RANGE

SOLAREDGE
The SolarEdge Home Battery is a DC coupled 10kWh solar storage battery. While SolarEdge is best known for their optimised inverters, they have a lot of experience with solar batteries. They were the original battery management system for Tesla. They have close to 100,000 residential systems with batteries from Tesla and LG on them worldwide and they own Kokam, an industry leader in battery chemistry and utility storage.
VIEW RANGE
ALPHA ESS
There are a range of batteries which can be added to existing solar power systems and for new solar installations there are hybrids with a built-in solar inverter. Single batteries come in a choice of 5kWh, 10kWh & 13.3kWh with the option to add multiple batteries to reach 80kWh on their single phase and 51kWh on three phase.
VIEW RANGE